---
Peres: Přestaňte používat děti jako lidské štíty proti bombám a raketám (angl)
11. 1. 2009
President Peres Attacks the Leaders of Hamas: "Stop Using Children as Human Shields for Bombs and Rockets"
4 January 2009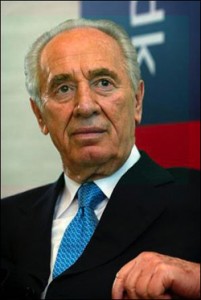 President Shimon Peres attacked the leaders of Hamas in an interview that he gave to the foreign press today, and in an appearance with students from Beersheba and the Gaza periphery he called on the terror organization to immediately stop using children and families as human shields for bombs and rockets.
President Peres said that, "Hamas is a murderous terrorist organization, and its members are brutal people of the lowest order. They do not reject any means of launching terror attacks against Israel, including the use of the local population as human shields." The President added that, "I see how they are making use of children in Gaza and I am shocked – strapping them to bombs and using them as a means of warfare."
In response to a student's question regarding the Iranian connection to the events in the South, President Peres said, "Today there are two people responsible for the tragedy of the Arab world: Hassan Nasrallah, who is ultimately an Iranian agent, and Khaled Mashaal, who is also an Iranian agent. We must remember that the Arab world is 90% Sunni, and they are also opposed to Iran's desire to rule the Middle East. Israel has restrained itself as much as was possible, and today the time has come to give Hamas the warranted response."
President Peres told the students that, "The people are united today in their determination and righteousness in a way that we have almost never seen before. You all have seen on television soldiers with packs going into Gaza, and they carry on their backs the history of the people. The commanders are moving forward and through the darkness, they are trying to see to the future. I am proud of the soldiers and the commanders that planned the operation. I have seen the plans and nearly 100% of them have been actualized."
The President also added that, "The Israel Defense Forces are continuing Operation Cast Lead, which is a justified and right operation, the goal of which is to harm the Hamas government and its military branch, strengthening deterrence, and creating a new and more stable security situation for the long-term in the Gaza periphery. The ground incursion into the Gaza strip is intended to complement the means already used through military maneuvers and to deepen the damage to Hamas and to the terror infrastructure. The forces taking part in the operation are at the highest level of preparedness and fitness for their mission after having practiced for this eventuality over a long period of time, and a thorough process of planning and preparation."